Why are aluminum products not easy to weld?
1. Aluminum is highly prone to oxidation in the air and during welding. The resulting aluminum oxide (Al
2
O
3
) has a high melting point, is very stable, and difficult to remove. It hinders the melting and fusion of the base material, and its high density makes it challenging to float to the surface. This can lead to the formation of inclusions, incomplete fusion, and inadequate penetration. Aluminum materials tend to have surface oxide films and adsorb a significant amount of moisture, which can lead to the formation of weld pores. Prior to welding, strict surface cleaning through chemical or mechanical methods is necessary to eliminate the surface oxide film. During welding, enhanced protection is required to prevent oxidation. When using tungsten inert gas (
TIG
) welding, alternating current (AC) power sources are chosen to facilitate "cathode cleaning" for oxide removal. When gas welding, flux is employed to remove oxide films. In the welding of thick plates, increasing welding heat input can be beneficial. For example, using helium as the shielding gas or helium-argon mixtures, or employing large-diameter consumable electrode gas metal arc welding (
GMAW
), "cathode cleaning" may not be necessary when using direct current (DC) positive polarity.
| | |
| --- | --- |
| Melting point | 933.47 K ​(660.32 °C, ​1220.58 °F) |
| Boiling point | 2743 K ​(2470 °C, ​4478 °F) |
| Density(near r.t.) | 2.70 g/cm3 |
| Hear of fusion | 10.71 Kj/mol |
| Thermal expansion | 23.1 µm/(m⋅K) (at 25 °C) |
| Thermal conductivity | 237 W/(m⋅K) |
| Electrical resistivity | 26.5 nΩ⋅m (at 20 °C) |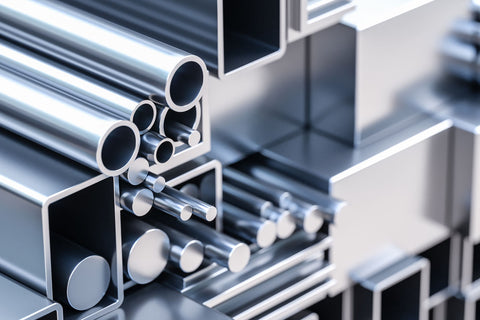 source: https://civiconcepts.com/blog/aluminium-in-construction-industry
2. The thermal conductivity and specific heat capacity of aluminum and its alloys are both approximately more than twice that of carbon steel and low-alloy steel. In contrast, the thermal conductivity of aluminum is several times higher than that of austenitic stainless steel. During the welding process, a significant amount of heat can be rapidly conducted into the base metal. Therefore, when welding aluminum and its alloys, energy is not only consumed in melting the welding material but also dissipates in the surrounding metal areas. This wasteful energy consumption is more pronounced in aluminum welding compared to steel welding. To achieve high-quality welding joints, it is advisable to use concentrated energy sources with high power whenever possible. In some cases, preheating and other process measures may also be employed.

3. The linear coefficient of thermal expansion for aluminum and its alloys is approximately twice that of carbon steel and low-alloy steel. Aluminum experiences a significant volume shrinkage during solidification, leading to greater distortion and stress in welded components. Therefore, measures to prevent welding deformation should be implemented. When aluminum weld pools solidify, they are prone to developing shrinkage cavities, porosity, hot cracking, and higher internal stresses.
 
In production, adjustments to the composition of the welding wire and welding processes can be made to mitigate the formation of hot cracks. When corrosion resistance allows, aluminum-silicon alloy welding wires can be used for welding aluminum alloys other than aluminum-magnesium alloys. The tendency for hot cracking is more pronounced when silicon content is around 0.5%. As silicon content increases, the alloy's crystallization temperature range becomes narrower, fluidity significantly improves, shrinkage rates decrease, and the susceptibility to hot cracking decreases accordingly.

4. Aluminum has a strong ability to reflect light and heat; when solid and liquid transition, there is no obvious color change, making it difficult to judge during welding operations. The strength of high-temperature aluminum is very low, it is difficult to support the molten pool, and it is easy to weld through.

5. Aluminum and aluminum alloys can dissolve a large amount of hydrogen in the liquid state, but hardly dissolve hydrogen in the solid state. During the solidification and rapid cooling process of the welding pool, hydrogen has no time to escape and hydrogen holes are easily formed. The moisture in the arc column atmosphere, the moisture adsorbed by the oxide film on the surface of the welding material and the base metal are all important sources of hydrogen in the weld. Therefore, the source of hydrogen must be strictly controlled to prevent the formation of pores.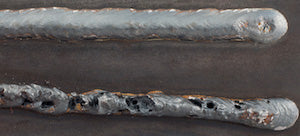 welding porosity
source: www.aquasolwelding.com/welding-preparation
6. Alloy elements are easy to evaporate and burn, which reduces the performance of the weld.

7. If the base metal is deformation-strengthened or solid-solution age-strengthened, the welding heat will reduce the strength of the heat-affected zone.

8. Aluminum has a face-centered cubic lattice and has no allotropes. There is no phase change during heating and cooling. The weld grains tend to become coarse and the grains cannot be refined through phase changes. Welding methods Almost all welding methods can be used to weld aluminum and aluminum alloys, but aluminum and aluminum alloys have different adaptability to various welding methods, and each welding method has its own application. Gas welding and electrode arc welding methods are simple in equipment and easy to operate. Gas welding can be used for repair welding of aluminum sheets and castings that do not require high welding quality. Electrode arc welding can be used for repair welding of aluminum alloy castings. The inert gas shielded welding (TIG or MIG) method is the most widely used welding method for aluminum and aluminum alloys. Aluminum and aluminum alloy sheets can be welded by tungsten electrode alternating current argon arc welding or tungsten electrode pulse argon arc welding. Aluminum and aluminum alloy thick plates can be processed by tungsten helium arc welding, argon-helium mixed tungsten arc welding, gas metal arc welding, and pulse metal arc welding. Gas metal arc welding and pulse gas metal arc welding are increasingly used (argon or argon/helium mixture).
Now, let's explore how to tackle these aluminum welding challenges. To assist you in achieving high-quality aluminum welds, we strongly recommend using our  aluminum welding machine: MIG-250D. This welding machine boasts a range of powerful features that make aluminum welding easier and more efficient. Let's delve into its advantages and how to leverage it for outstanding welding results.
MODELS/Parameters
MIG-250D
Rated Input Voltage(V)
220±15% 110±15%
Input Frequency(Hz)
50/60Hz
Rated Power(KV.A)
MMA:7.2@220V
MMA:4.9@110V
MIG:6.3@220V
MIG:4.2@110V
Rated Input Voltage(V)
MMA:33@220V
MMA:45@110V
MIG:29@220V
MIG:39@110V
No-load Voltage(V)
60
Rated Output Current(A)
MMA:20-200
MIG:40-200
Duty Cycle(%)@25C
40%
Power Factor
0.7
Efficiency(%)
85
Insulation Class
F
Protection Class
IP21S
Welder Weight(ibs)
22
Welder Size(inches)
18.1*9*16.5