SSimder Welder: Thanksgiving Day's Gift Guide
Best Buy, Target, Walmart, and Amazon's' Black Friday deals have arrived. The 2023 sale will take place between November 24-27, a day before Thanksgiving. So, it's great to fall for deals that you can gift for Thanksgiving. Why not this year focus on gifting something that goes beyond just a gift and rather a compelling helping hand? This fall, gift safety and other helping welder tools.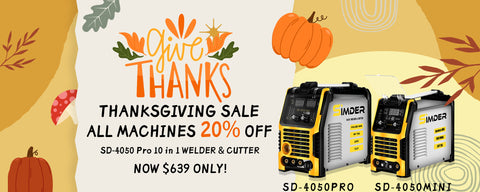 Welding is hard work. Those who work for forty hours a week or more deserve to buy or be gifted some welding tools this Thanksgiving day. You can find some amazing answers to tools that you can gift in the following 7 welding gift ideas.
This article mainly focuses on gifting SSimder Welding Tools on this Thanksgiving Day. We'll also look into the origins of Thanksgiving, Black Friday, and Cyber Monday. Let's dive deep without further ado!
What is Thanksgiving?
Thanksgiving Day is an annually celebrated holiday in America. It is celebrated in November. Friends and family gather for a large celebration to pay thanks to God for the year's bounty.
Thanksgiving Day is celebrated on different dates in different parts of the world. In the English tradition, Thanksgiving Day gained importance during the English Reformation during the reign of Henry VIII. The Church of England's 1536 reforms led to the advent of the Days of Thanksgiving because Puritans viewed this as an act of special providence. Special blessings from God were named the Days of Thanksgiving.
In the US, it historically originated in 1621, when the English colonists (Pilgrims) of Plymouth, Massachusetts, had a harvest feast with the native Wampanoag people. The day after Thanksgiving is Black Friday for commercial sales and shopping for the Christmas season. 
The importance of giving gifts on Thanksgiving Day
According to a survey conducted early this year, the popularity of Thanksgiving Day is at 82 percent, which is way more than Christmas, Halloween, or Easter. Americans tend to warm the hearts of others as November approaches with valuable gifts. Thanksgiving is a time for gratitude and reflection. Giving gifts on Thanksgiving is of great importance to bring warmth to our connections. You should gift for several reasons, some of which are shared below.
Express Gratitude: Thanksgiving is a time of holidays because most American families are together. You should give to express gratitude and feel the warmth of closeness.
To express your love and care, gifts don't necessarily have to be something that makes things better for the other person for the time being. You can gift something that can help and keep reminding the other person that you love and care.
To influence: Change is possibly the only constant in nature. You can gift something like a welding helmet to a welder to showcase support for their daily job. 
What is Black Day?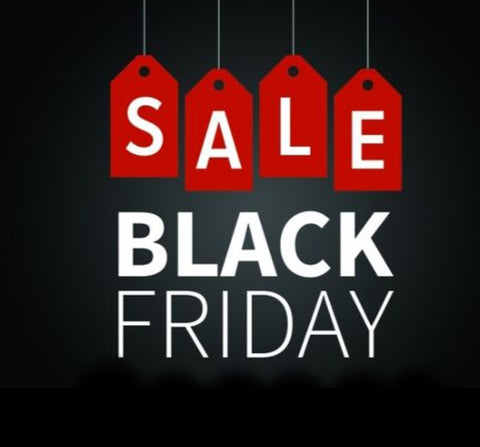 The origin of Black Friday dates back to 1950s Philadelphia. Local traffic police coined this term for traffic jams, mobbed pathways, and overcrowded pavements.
If you miss out on bragging Black Friday deals, sales continue until Cyber Monday. This is the final chance to score a save. The only difference between Black Friday and Cyber Monday is that Black Friday deals take place both online and in-store, while Cyber Monday's deals are only online.
20% Off All SSimder Machines On Thanksgiving Day
What's more? SSimder provide 20% off auto discount on all machines On the whole November. Let's pick out Thanksgiving gifts for your beloved welder.
The SSimder ARC-200 Stick Welder is a decent choice for anyone seeking a stick welder under $100. It costs $93.99 and can also be paid in four installments of $23.49. 
Description
ARC-200 boasts IGBT technology that understands the ideal control process needed in welding to get satisfactory results. Machines are safe enough to keep materials safe to a large extent. It reduces overall size and reduces power loss.
The LCD is easy to read. Even if you're a beginner welder, adjust the current and voltage, and it's easy to operate. The welder machine has a protective system in case of overheating or overcurrent that alerts the welder with an indicator light.
The SSimder Arc Welder is ideal for below-4.0mm welding rods. It has an energy-saving design that increases welding frequency and saves energy significantly. The SIDMER ARC Welder is perfect for welding metals like carbon steel, medium carbon steel, and others.
The welder has a compact, lightweight body and an easy-carrying handle. This is a reliable partner for welding professionals or DIY home maintenance, regardless of indoor or outdoor work.
Features
Advanced IGBT Inverter Technology

Small and portable

Strictly tested 

Over-Current&Over-Heat Protection

Voltage and ARC Force Control
Avoid using it in wet places. Also, avoid using it where it can catch fire. Turn the ventilation fan on or open the window when working with the machine.
"Leather gloves" and "welding surfaces" are necessary to protect hands from sparks, hitting metal, and electric shock.
Avoid the danger of hot, flying metal particles by wearing long sleeves, long pants, or leather aprons. 
SSimder CUT-50 Plasma is a lightweight, dual-voltage, and IGBT-Technical under $200 cutter. It is large, yet lightweight and easy to control. Let's explore more about it!
Description
Cut-50 provides thin and thick materials alike, cutting through rough, painted, and rusty surfaces. Its 10-50 dc output, 1/4ideal clean cut, 1/2 maximum severance cut, and 60% duty cycle render it highly powerful. A cutter can cut through multiple materials like steel, stainless steel, alloy steel, mild steel, copper, aluminum, and more.
It weighs only 11 lbs. Cut-50 plasma boasts 110v/220v dual voltage. Its lightweight makes it viable for outdoor use. The overheating protection indicator and screen current display guarantee safety. It is noiseless, smoothly cut, saves energy, and is incredibly easy to operate.
Features
Multiple Protections: The plasma cutter has multiple protections for safety against overvoltage, overcurrent, and overheating. Automatic cooling fans and vents remove heat generated during operation and extend the machine's life.
Dual Voltage: 110/220V dual voltage applies to different cutting effects and meets wide cutting needs.
Portable: It weighs only 11 pounds, which makes it easy to use outdoors.
Extreme weather use: Cut-50 plasma tested through 12 extreme conditions: cold, dust, high temperature, noise, throwing, bumps, etc. Dual-voltage uses the Conversion Cord, Plug, and Play to adapt itself to different conditions.
Easy Operation: The easy-to-read LED display and single knob controls design provide an accurate data display. 
The SSimder MIG-250 multi-process welder is an under $300 machine that adds flexibility to welding operations. Advanced technology and multifunctionality make it the perfect choice for welders in various conditions. 
Description
Mig-250 is equipped with MIG/MAG/TIG/MMA functions that make it a flexible service with various techniques and materials. Advanced IGBT inverter technology ensures reliable performance in all welding tasks.
It is suitable for welding with 0.8mm (0.030") to 1.0mm (0.039") wires, which gives it the advantage of working with a wide range of wire sizes and materials. MMA Mode makes it compatible with various electrodes, such as E6011, E6013, and E7018. The integrated LED digital display provides accurate information. It makes adjustment settings and monitoring for optimal welding performance easier.
Features
2LBS/10LBS Flux Core Wire/Solid Wire compatibility

0.8mm (not included)/1.0mm K-Groove Wheel Support

Larger internal space and easy-to-setup welding wire.

Waterproof Power Switch

Fan cooling for long-term quality work

Easy to install and remove welding mode

Automatic Overheat Warning
SSimder's MIG-250D is an excellent choice under $400 with various handy features. 
Description
MIG Welder is capable of welding aluminum. You can switch the graphene conduit liner during aluminum welding without requiring a spool gun. The Smart Control Panel displays all welding parameters, including welding mode, thickness of welding wire, voltage, and current. The wire feeding speed button automatically sets welding parameters.
It applies to various welding applications like 0.6–1.0 mm and 6018, 7013, and 6010 electrodes. You can use it for welding aluminum, iron, carbon steel, and stainless steel. Delivery takes 4-6 working days in the US.
Features
Front Panel: One-Click Mode Switch, Wire Dimemsion Select, and Easy Voltage and Current Setup
Smart Digital Display: Displays all the welding parameters.
Other Features: MIG Gun, electrode stringer, work clamp, W Knurl Groove, etc.
Welding Cord Connection
There are four welding cord connections in the MIG-250D.
Gas MIG Welding: Connect the MIG Torch. Make sure the ground clamp is connected to the positive terminal and the clamp to the workpiece.
Gasless MIG Welding: Connect the MIG Torch, and make sure the ground clamp to the negative terminal and clamp to the workpiece.
ARC/MMA/Stick Welding: Connect the electrode to the positive terminal. Connect the ground clamp to the negative terminal and then to the workpiece.
TIG Welding: Connect the TIG Torch to the negative terminal. Connect the ground clamp to the positive terminal, and then clamp it to the workpiece.
SSimder SD-4050PRO is a 10-in-1 welder and cutter that allows you to use it with Synergy MIG Welding, Flux Cored MIG Welding, High-Frequency Start TIG Welding, Pulse MIG Welding Aluminum, and more. Its design is capable of breaking through welding barriers. You can unlock new levels of skill, power, and creativity.
Welders can experience maximum weld seam quality in TIG applications; possible results are ultra-pure seam-free. A welding torch can be positioned perfectly. 
Features
Pulse MIG Welding: Using the standard MIG process, pulse MIG is perfect for metals and applications where controlling heat is difficult.
High-Frequency TIG Welding: You can tackle any welding challenge. The High-Frequency Start TIG mode is highly advantageous at difficult joints. It can perfect more advanced techniques and create precise seams.
Plasma Cutting: The SSimder SD-4050 Pro is a top-of-the-line plasma cutter that you can use to cut any type of conductive metal.
Gas Metal Arc Welding: You can choose from CO2 or mixed gas to customize your experience.
Flux Core Welding: This flux-cored welder processes easily and quickly to tackle metalworking projects.
Synergic MIG: Select the current value and let the cutter take care of any necessary parameters.
Stick Welding: Adjustable hot start technology assists in stabilizing arcs and smooth welds with greater penetration.
2T/4T/Spot: Set up the torch according to needs, and it'll weld a constant length of weld bead.
VRD: VRD reduces open-circuit voltage. You can concentrate on projects without risking electrical shocks or accidents. 
Welding Soulmate
Safety gear should be of utmost importance if you're a welder or looking to become one. A high-quality welding helmet is right at the top of the safety equipment. The UV rays from welding arcs can cause serious eye issues, including a painful condition called arc eye and retinal burns.
Purchasing an excellent welding helmet can protect you from eye damage. But to determine which welding helmet is suitable for you from many brands, here are the best couple of choices for you.
Description
The RLM-800 is a superior comfort adjustable headgear helmet. With a knob and fear, you can loosen or tighten headgear which provides comfort and security. It weighs only 1.2 pounds. The helmet is also anti-slip and breathable, which ensures comfortable wear for a longer period. 
Features
Increased battery life

True Color View: 1/1/1/2 provides optimal clarity.

Grinding feature

Great for TIG, MIG, MMA/Cutting and cutting applications

3.93"X 3.66" viewing size with four premium sensors

Solar panel technology for effortless charging

Multi-function adjustment, including sensitivity, shade, function, and delay time
Just like other products, order delivery takes 4-6 working days in the US and 20–30 days in other countries from their Chinese supplier. 
Heavy Duty Electrode is a power pack of amazing features under $40. Let's explore more! 
Description
25mm² highly flexible cable is used in manufacturing SSimder Welding Electrode Holder. The diameter of the cable is 0.418 inches. It is suitable for various types of welding rods, electrodes, etc. The upgraded heavy-duty jaw-holding plier has an ergonomic handle and is made of high-quality brass material. It doesn't oxidize with heat or string bite force. The powerful spring-loaded, non-slip-insulated clamping jaws hold the electrode so tightly that the welding electrode holder doesn't slip.
Welder Copper Plier Ground Clamp utilizes a copper chuck with a strong current. A large hex screw cable connection provides a tight and safe connection. Ground clamp and cable design remove the arc blow. A 9.8-foot welding electrode ground clamp can flexibly suit most welding requirements. The 9-mm/0.35-inch plug is convenient and efficient. No tools will be required for assembling; rather, everything comes ready.
Features
25mm² 600A Welding Electrode Holder

cable and 25mm² 600A welding electrode ground clamp plus cable

Handle. High-strength coiled spring for maximum grip

High-temperature resistance

3-month warranty and 30-day money-back guarantee 
Wrapping up
Thanksgiving is a great holiday when families get together to celebrate and thank God for the blessings of the year. Giving gifts that can bring safety, quickness, and protection to daily chores could be great!
You can save on buying gifts for Thanksgiving and Christmas from Black Friday to Cyber Monday. Whether it's your father, brother, or friend who welds as a professional or hobby, gifting welding tools can protect and help them get things securely and quickly.